Pool table repair
No result

• Pool table repair • Snooker table repair • Antique pool table repair •
Pool table repair done by professionals and a reliable company that has a history of over 40 years in the billiard industry - Whether it's a new or used table bought from us or elsewhere, Palason and its skilled team has the experience necessary for the best objective repair advice and work ethics for your billiard rapair needs.
Restoration of antique pool tables, and repair of damaged billiard and snooker tables for home and commercial insurance purposes. Since 1975 Palason has been reparing, rebuilding, and restoring antique pool tables and refurbishing pool tables for insurance purposes after home or commercial fires and disasters.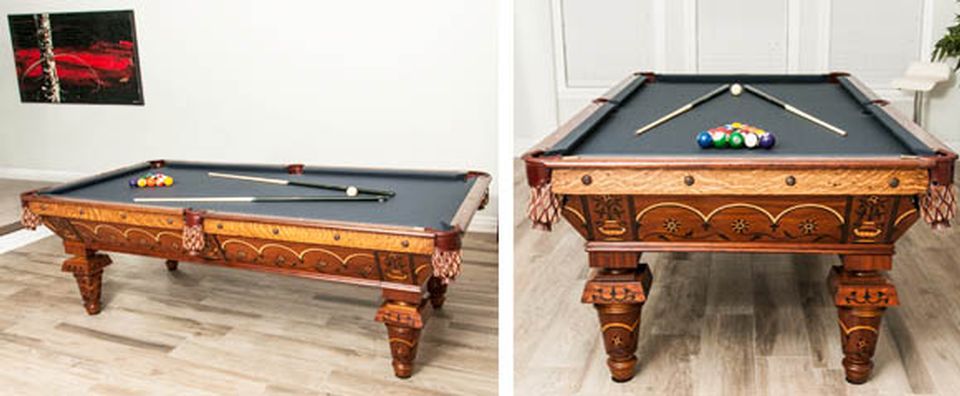 HERE ARE SOME IMAGES OF THE SAME TABLE BEFORE THE RESTORATION
• A few pictures of this Brunswick Samuel May pool table before it was restored.

1 ) Our qualified pool table installation technicians carefully take the billiard table components apart and prepare them for a safe trip to our workshop.

2 ) At our workshop, the individual parts of the antique pool table are stripped of their worn, damaged and darkened lacquer, and then sanded carefully to preserve the intricate wood inlays. Our skilled wood craftsmen and paint specialists prepare the table to receive its new finish.

3 ) Once the antique pool table has been refinished and the new rubber cushions have been installed on the rails, the installation technicians take the pool table to its new home for assembly. Each piece is unwrapped and the table is reassembled and levelled in order to place the slate on the frame. The level is checked again, and the cloth is then placed on the table to provide a new play surface. This antique pool table is now ready for many more decades or centuries of family fun.

The family that acquired this pool table decided to upcycle, reuse and repurpose an an antique versus buying a new table in order to minimize the processing of new fresh woods. For environmental purposes and for a green approach to their build, they took something old and made it new again. We thank them for trusting Palason for their project.
An antique pool table 's test of time
A family heirloom sees a whole new life, restored for its new home
Purchasing a pool table can often provide many dilemmas, when it comes to choosing the quality, style, size, materials of construction, price range and many other possible options. With so many choices of manufacturers, brands and models on the market today, the possibilities are endless. However, one element of certainty that becomes timeless and offers more flexibility for decades to come, is selecting a table that's made of a solid wood, coupled with a good structural integrity. This formula may often bring the buyer unforeseen advantages aside the obvious resale value retention and sturdiness of a quality durable construction.
The following story is a prime example of solid wood craftsmanship withstanding the test of time to provide decades (and who knows perhaps even a century or more) of game room fun for several generations of this one family. If you plan on eventually leaving your pool table to your children as a family heirloom, you may want to buy a more timeless quality built game room furniture piece, as opposed to a typical department store veneer or melamine covered pool table.
Palason was recently contracted to restore a local Montreal customer's antique Brunswick billiard table. The customers' mom was passing it down as a gift for her daughter's and son-in-law's new home. The table was to be restored with a different finish in order to blend with the new home décor and to give it a fresh look.
After some investigation by the Palason team, it was discovered that this particular table has an interesting Canadian historical background. This table design originated from the Samuel May company, Canada's largest billiard manufacturer based in Toronto Ontario at the time. The company was later purchased by the Brunswick company in 1910, but a handful of Samuel May designs remained in production for the next decade or so, until the factory was sold again.
As it turn's out, this Brunswick table was purchased from St-Michael's Ukrainian Catholic Church of Montreal, Quebec on Iberville street in 1982. The client's mother had purchased it with her now ex-husband. It was moved to their home by Palason Billiards, and then serviced for cloth changes throughout its years of enjoyment. It remained in that particular home until September 2015. The table was then taken apart, piece-by-piece, stripped of it's old darkened and damaged lacquer. It was entirely sanded, and a new lighter stain and finish were applied to enhance the tables' intricate and beautiful elaborate inlays. In it's previous condition, the unique looking quarter-sawn oak wood grain and detailed inlays were barely visible.
How to help protect a wet pool table from water damage? Here's some hints and tricks that may helpful for preserving your billiard table ;
We imagine that if you're reading this page attentively, it's because you, a loved-one or a customer of yours has experience some water, flood or sewer backup damage. For this, we're sympathetic to your troubles and will do all we can to help you remedy this unfortunate situation by the information below or by the help of direct intervention by call-in appointment or through the help of your insurance provider.
If you've had a flood or sewer back-up, even if your pool table is at the other end of the room, the excess moisture in the air can potentially cause the cloth and the table wooden parts to mold. It's important to resolve the humidity problem before it causes objects and building materials to promote mold and mildew growth and further possibly cause health and breathing issues.
• Let your insurance know of the flood damage
• Moving a pool table after water damage can be risky and it is un-recommended, until you can have a billiard professional evaluate the feasibility and best approach based on the model and size
• If you do plan on moving it yourself ( again, not recommended ), here's what you should know ;
Disassembly :
The pool table should be taken apart carefully as parts like the rails, legs, side panels and other may suffer further damage if they've absorbed water, and the finish may have become more delicate. The first step would be to remove the rails by un-bolting and unscrew them from under the table. You may have to separate the rails from the pockets as they might be bolted or screwed together. Then remove the cloth (felt) from the playing surface. It's usually partially glued and stapled from underneath the slate. If you plan on re-using the existing cloth and not replacing it, staples must be removed carefully without snagging or ripping the cloth, as it could make it difficult or impossible to re-use if there are too many rips and holes. This can be done by using either staple removers, long nose pliers or other tools that can get smoothly between the felt and the staples without snagging. Removing the cloth from the rails is not usually necessary, unless the rails are wet or contaminated. Once the cloth is removed from the playing surface, you can proceed to remove the slate pieces by un-bolting and unscrewing them from the frame. The slate is typically made of three pieces that should easily separate from each other with a little lift at the extremities of the table once all the bolts and screws are removed from the top and bottom of the slate. Take pictures of the process in case you need to put the table back together. All your table's components should be thoroughly cleaned and dried to avoid mold or mildew. Store your parts in a dry place and don't seal them up or cover them, let them air dry properly for at least a week before attempting to re-assemble your table.
What should I do if my pool table has been exposed to a flood or water?
• If the pool table cannot be removed immediately from the room, it's best to start water remediation as quickly as possible, in order to prevent worse damage and more difficult repairs. The pool table might be salvageable
• What to do if the pool table wood or billiard cloth has been wet or exposed to contaminated water: If the wood and the cloth of the pool table are exposed to water or humid air too long they may suffer permanent damage cleaning them with proper solutions that will not further damage or bleach the finish and the pigment of the cloth is important to preserve the billiard table and cloth integrity, but also to reduce bacterial or fungal growth. An ultra violet light may be required to destroy mold and fungus on many, if not all the exposed parts
• Avoid trying to move your pool table, water may have already compromised the glue in the structure of the frame. Moving the table could collapse it or damage the structure. It's best to have the table examined and moved by a professional billiard technician
• If the carpet under the pool table needs to be removed before you can have the pool table moved, cut your carpet around the legs and remove it in parts
• Do not cover the pool table with a plastic sheet or any other covering, it will trap moisture and cause more damage
• Do not lean or sit on the pool table or place debris, objects or tools on it during your flood damage remediation
• Document the extent of the damage with pictures for yourself, your insurance company and for the billiard service company you choose to do the restoration, moving or repair work
• You may want to document the dismantling of the table with picture, in case you or your billiard technician need points of reference for re-assembling
• New flooring or carpet should never be installed with an pool table present, regardless if the pool table got wet or not. A pool table can't be moved like regular furniture because of the risk of damaging to the frame, parts and slate. Always have the table moved and put back by a qualified billiard technician with the proper jacks and tools
• When your home is remediated and everything is fixed and dry, then have the billiard technician install the pool table back in its place
Re-Assembling your pool table and re-leveling:
• Once your table parts are dry, clean and free of mold or mildew and ready to put back together again, this may be a bit more difficult. To be sure that the structural integrity of the table is still intact and safe, it's always best to have a professional technician examine it, before attempting to re-install it
• Frame Assembly : The frame would need to be assembled and legs attached to the frame with nuts and bolts and/or screws or dowels depending on the model. Make sure the corners are squared properly
• Make sure that the middle support beams and inner frame components all rest straight, well fastened to the frame with the proper hardware and leveled, ready to seat the heavy slate pieces
• Slate Installation : The slate is typically composed of three separate pieces, sometimes more depending on the size and format of the table. It should be placed on the structure, usually with the middle piece first, centered and holes aligned to the respective holes in the frame, if any. Slate is heavy, several people will be needed for this process. Center the middle piece properly to avoid having to redo this heavy awkward step if edge pieces of slate pieces are not aligned evenly
• Shim the slate to level using proper billiard wooden shims if needed, so all the slate pieces are aligned and level together
• Once the slate is in place, a new cloth felt can be installed, glued at the long edges and tacked underneath and around the pocket holes, while pulling the cloth tightly to remove all pleats or kinks. A helpful video on this process is available at the following link https://www.youtube.com/watch?v=hv2bri9TOlw
• With the playing surface now ready, the rails and the pockets can be re-fastened to the table edges with the appropriate original bolts and screws. Please note that corner pocket rails have a sharper angle. Not all rails are the same. Be sure to place the appropriate rails in the correct locations
How to move a fully assembled pool table from one room to another? :
• Moving a pool table safely, should always be done by a professional
• Never attempt to move a fully assembled pool table, especially after the structure may have been compromised by water. Certain parts that may have been factory assembled using glue, may now be weakened by the wood getting wet and may fall apart from the glue losing its strength, now no-longer holding the wood together properly
• Never attempt to flip a pool table on its side to move it from one room to another. If the doorway is narrower than the pool table, the table should be taken apart and then re-assembled in the next room
• Specialized billiard table moving jacks are typically used by billiard technicians to accomplish this heavy and daunting task
In a nutshell, moving a pool table after water damage or flooding can be difficult and sometimes dangerous and to be done properly, safely and carefully not to create extra damage or risk to the home and its residents, it's best left to expert pool table movers to either access the situation and best approach, to either disassemble, move, re-assemble, re-level, clean or sanitize and especially for moving a table after it's been wet from water of sewage. They have all the expertise safely and efficiently. Moving or assembling a pool table improperly can potentially lead to property damage, bodily injury or even death of pets or children, if the structure is not sound.
FLOOD AND WATER-DAMAGED POOL TABLE REPAIR
Pool table legs made of Melamine press-wood need to be replaced if they've absorbed water. When water infiltrates the particles, the integrity of the structure has been compromised. It is considered a hazard; the leg will eventually deteriorate, and the heavy pool table could fall.
The pool table leg on the lower left was made of a laminate veneer that split at the corners because it had absorbed so much water from a flooded basement, it could not be repaired. A new leg was made from scratch to replicate the original and then finished to match the rest of the table, giving the table a new life for many future decades, and saving it from landfill.


Our talented Palason wood repair shop carpenters can also repair solid hardwood pool table and snooker table legs that sometimes need more technical or elaborate structural repairs. This black Ram's Head style leg had also been the subject of a flood and the excessive water absorption had caused a part of the leg from the expansion. Strips of wood were glued and inserted in the gaps, then trimmed, sanded, painted and varnished to match the original leg finish.


Our skilled pool table repair technicians are ready to take-on a challenge and help with your needs. We can refinish or restore antique pool tables as well as repair modern ones. We can track down rare snooker and pool table parts from our large list of sources and save you months of aggravating research.