Pool table repair
No result

• Pool table repair • Snooker table repair • Antique pool table repair •
Pool table repair done by professionals and a reliable company that has a history of over 40 years in the billiard industry - Whether it's a new or used table bought from us or elsewhere, Palason and its skilled team has the experience necessary for the best objective repair advice and work ethics for your billiard rapair needs.
Restoration of antique pool tables, and repair of damaged billiard and snooker tables for home and commercial insurance purposes. Since 1975 Palason has been reparing, rebuilding, and restoring antique pool tables and refurbishing pool tables for insurance purposes after home or commercial fires and disasters.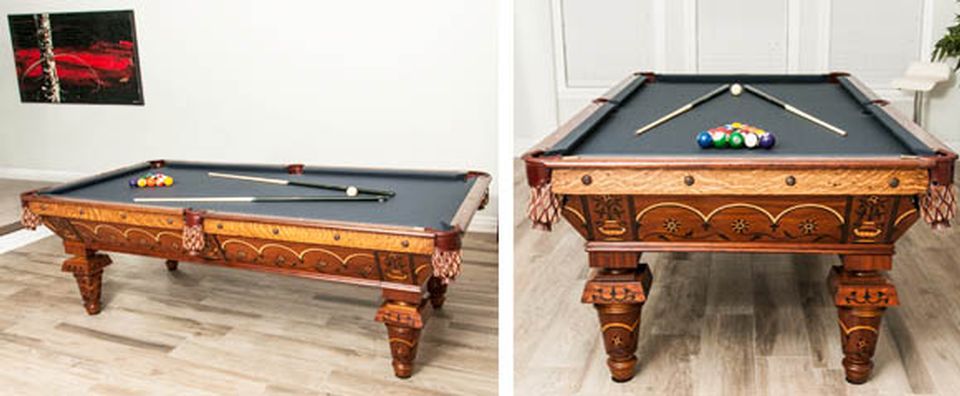 HERE ARE SOME IMAGES OF THE SAME TABLE BEFORE THE RESTORATION
• A few pictures of this Brunswick Samuel May pool table before it was restored.


1 )
Our qualified pool table installation technicians carefully take the billiard table components apart and prepare them for a safe trip to our workshop.

2 )
At our workshop, the individual parts of the antique pool table are stripped of their worn, damaged and darkened lacquer, and then sanded carefully to preserve the intricate wood inlays. Our skilled wood craftsmen and paint specialists prepare the table to receive its new finish.

3 )
Once the antique pool table has been refinished and the new rubber cushions have been installed on the rails, the installation technicians take the pool table to its new home for assembly. Each piece is unwrapped and the table is reassembled and levelled in order to place the slate on the frame. The level is checked again, and the cloth is then placed on the table to provide a new play surface. This antique pool table is now ready for many more decades or centuries of family fun.

The family that acquired this pool table decided to upcycle, reuse and repurpose an an antique versus buying a new table in order to minimize the processing of new fresh woods. For environmental purposes and for a green approach to their build, they took something old and made it new again. We thank them for trusting Palason for their project.
An antique pool table 's test of time - A family heirloom sees a whole new life, restored for its new home
Purchasing a pool table can often provide many dilemmas, when it comes to choosing the quality, style, size, materials of construction, price range and many other possible options. With so many choices of manufacturers, brands and models on the market today, the possibilities are endless. However, one element of certainty that becomes timeless and offers more flexibility for decades to come, is selecting a table that's made of a solid wood, coupled with a good structural integrity. This formula may often bring the buyer unforeseen advantages aside the obvious resale value retention and sturdiness of a quality durable construction.
The following story is a prime example of solid wood craftsmanship withstanding the test of time to provide decades (and who knows perhaps even a century or more) of game room fun for several generations of this one family. If you plan on eventually leaving your pool table to your children as a family heirloom, you may want to buy a more timeless quality built game room furniture piece, as opposed to a typical department store veneer or melamine covered pool table.
Palason was recently contracted to restore a local Montreal customer's antique Brunswick billiard table. The customers' mom was passing it down as a gift for her daughter's and son-in-law's new home. The table was to be restored with a different finish in order to blend with the new home décor and to give it a fresh look.
After some investigation by the Palason team, it was discovered that this particular table has an interesting Canadian historical background. This table design originated from the Samuel May company, Canada's largest billiard manufacturer based in Toronto Ontario at the time. The company was later purchased by the Brunswick company in 1910, but a handful of Samuel May designs remained in production for the next decade or so, until the factory was sold again.
As it turn's out, this Brunswick table was purchased from St-Michael's Ukrainian Catholic Church of Montreal, Quebec on Iberville street in 1982. The client's mother had purchased it with her now ex-husband. It was moved to their home by Palason Billiards, and then serviced for cloth changes throughout its years of enjoyment. It remained in that particular home until September 2015. The table was then taken apart, piece-by-piece, stripped of it's old darkened and damaged lacquer. It was entirely sanded, and a new lighter stain and finish were applied to enhance the tables' intricate and beautiful elaborate inlays. In it's previous condition, the unique looking quarter-sawn oak wood grain and detailed inlays were barely visible.
Our skilled pool table repair technicians are ready to take-on a challenge and help with your needs. We can refinish or restore antique pool tables as well as repair modern ones. We can track down rare snooker and pool table parts from our large list of sources and save you months of aggravating research.